The most important thing about scale modelling is……to have fun! Better still when you are having fun and the project goes to a store display. I was asked by Hub Hobby in Richfield, MN to make this diorama from The War of the Worlds. It was an out-of-box build from a Pegasus Hobbies kit on an unusual subject.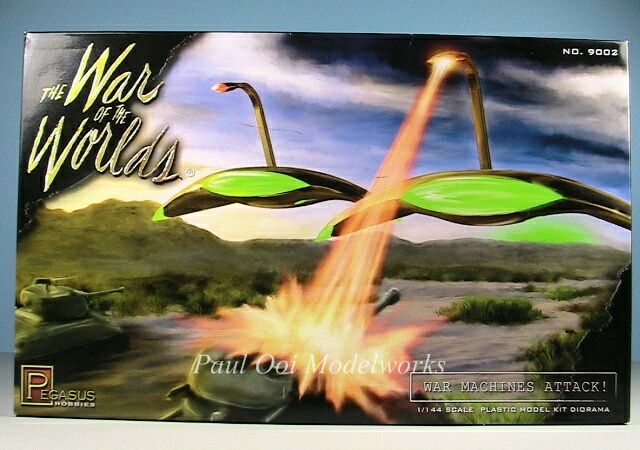 For starters, you get a couple of Sherman tanks from 1945 that look like a cross between the Sherman Firefly with the long 75mm plus muzzle brake and the hull of the early Sherman with the rounded "shoulders". Must have been surplus WW2 tanks passed on to local units who ALWAYS get the job of attacking rampaging monsters with inadequate weapons. But I digress….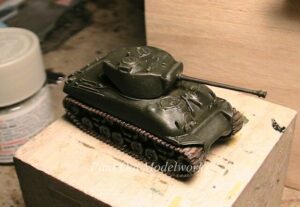 For 1/144th scale models, the amount of detail on the little tanks are pretty good and you could make out the equipment attached to the hull, and the details on the chassis are very convincing. I had a fine time painting them with basic Tamiya Olive Drab, followed by a wash of Nato Black and highlighting using Tamiya Deck Tan. The tracks are a combination of Red Brown, Gunmetal and Flat Earth.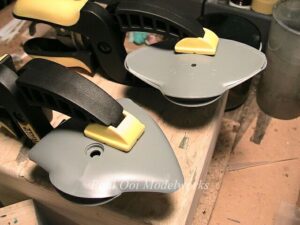 As for the Visitors, I start by clamping the hull shells together (they DO look like clams). The assembly is pretty simple and very soon, the 1953 movie classic with the infamous "cobra head" laser beam gets attached to the structure. Instead of the shiny copper color of the original, I decide to go with burnt iron instead, giving the Martians a more sinister look, and also to avoid having the craft look like a shiny toy. Clear lime green lacquer for the clear parts make up the cockpit and "navigation lights" (?)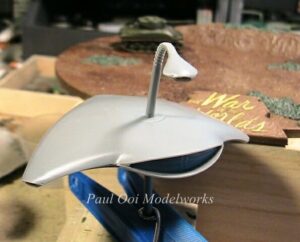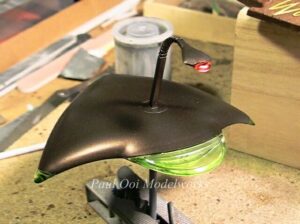 The antagonists had to fight over something, in this case an oval piece of plastic…..a.k.a. Planet Earth. After the initial layer of Flat Earth, I washed the landscape with Burnt Umber. Notice that Planet Earth resembles a Salisbury steak with Worcestershire sauce, disregarding the green stuff. This is highly symbolic, two races battling over the most basic resource….food!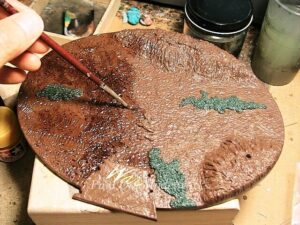 Once all the pieces are ready for mounting, I add in the piece d'resistance, the Martian ray blast that dominates the diorama. Instead of the prescribed red beam, I decided to emphasize the energy flow culminating in a big clear orange blast fringed with white heat vapor. Mars: 1 Earth: nil.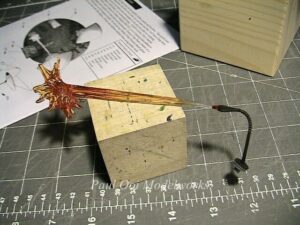 One more thing. The little microbes that eventually get the Martians and lay them down with measles? They are hiding in that green stuff around the landscape.
Orson Welles would be pleased.