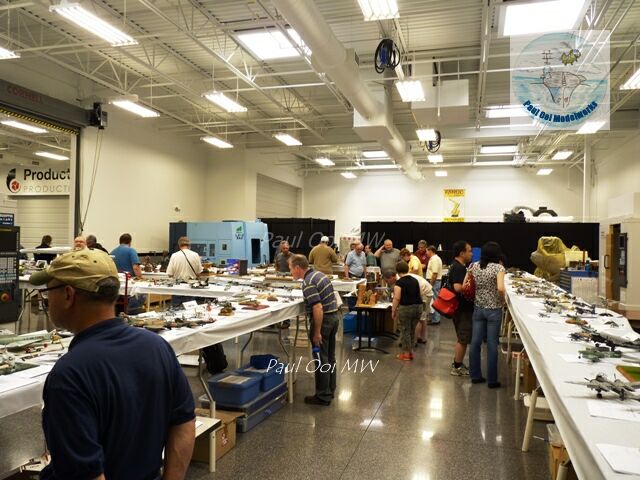 It's that time of the year again! Even as the farms across the Upper Midwest gather in their harvest, modelers from around the region carry their year's worth of plastic models to the Twin Cities for NordicCon. This year's theme is "As Seen On TV", and this plays well for many Sci-Fi buffs. What was special this year was a large section dedicated to the exhibition of the diorama work of Steve Hustad. His works of art in 1/72 scale are 3-D portrayals of actual WW2 photographs of aircraft crash sites.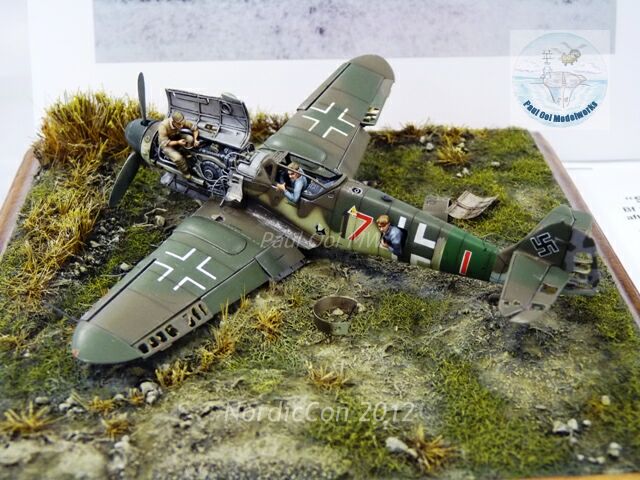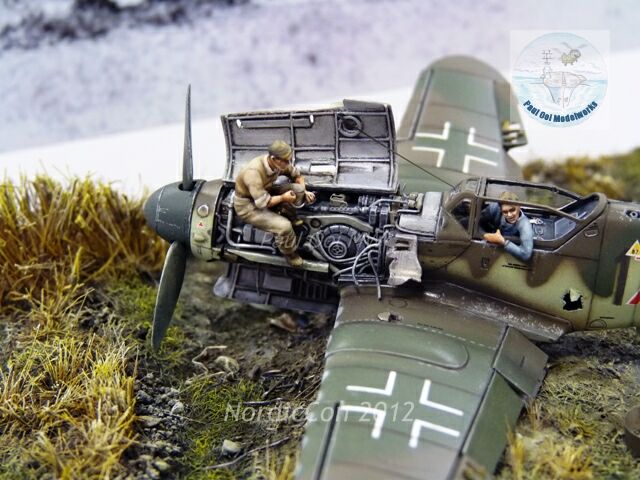 The 1/72 scale figures are so meticulously sculpted and positioned that even without the captions, the story is already told. The aircraft themselves are exquisite in the different levels of damage inflicted by their crashes. Burn marks, shattered props and debris strewn over a scarred landscape. Just marvelous artistry. Enjoy the miniature world of Steve Hustad.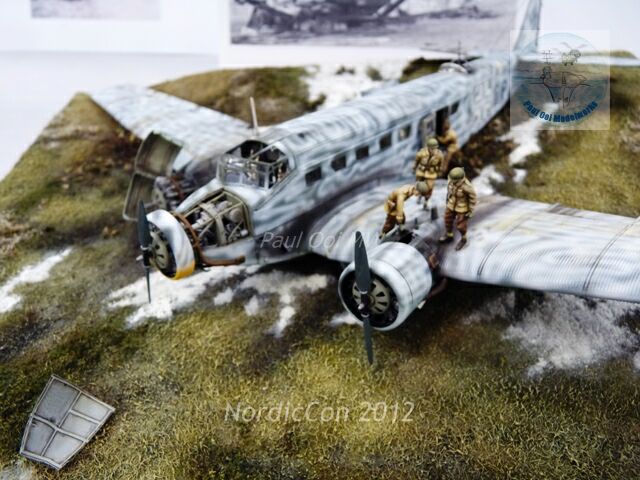 This next one has an element of humor in it as a line of GIs take turns playing fighter pilot in a crashed Me Bf-109 G.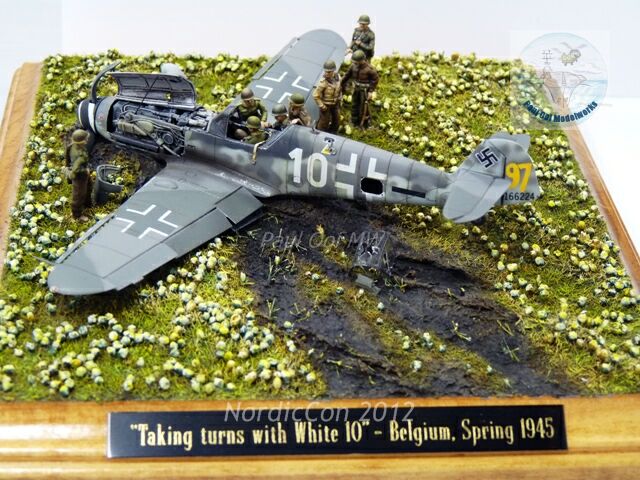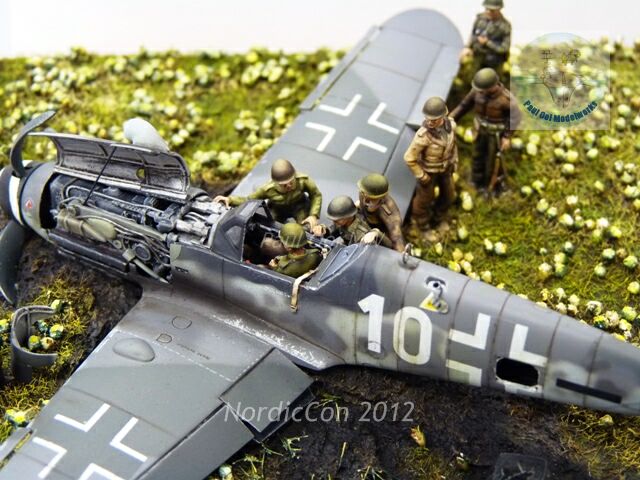 An atmospheric diorama of a winter scene with the crashed Ju88 plowing into a canal.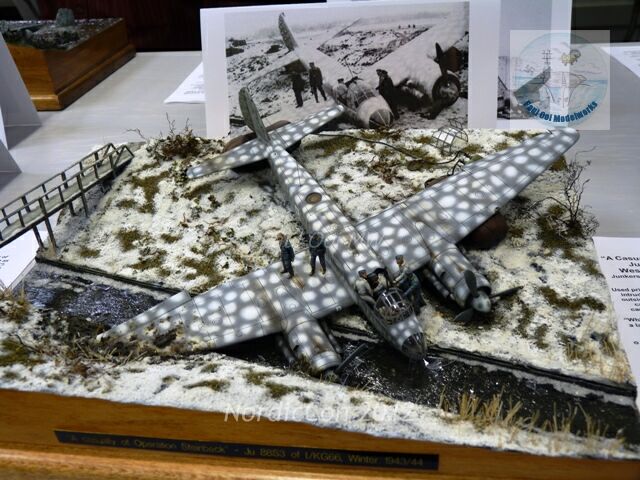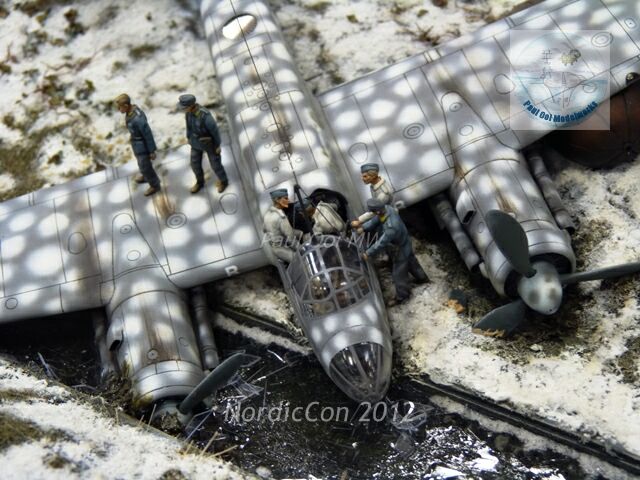 A group of GIs piling onto a Dora for mugshots. Obviously safety guidelines do not matter when you are winning the war.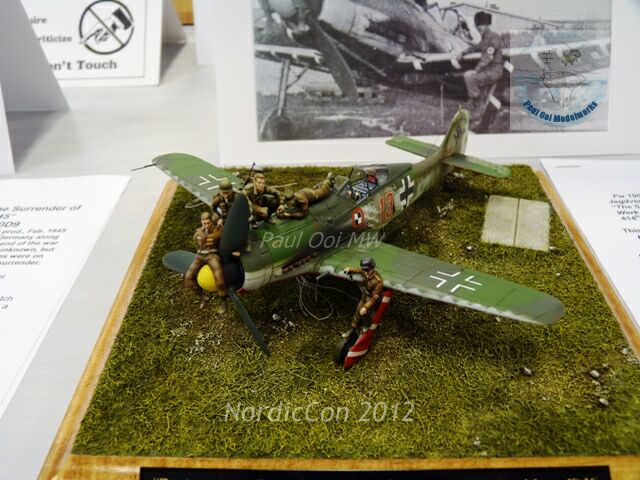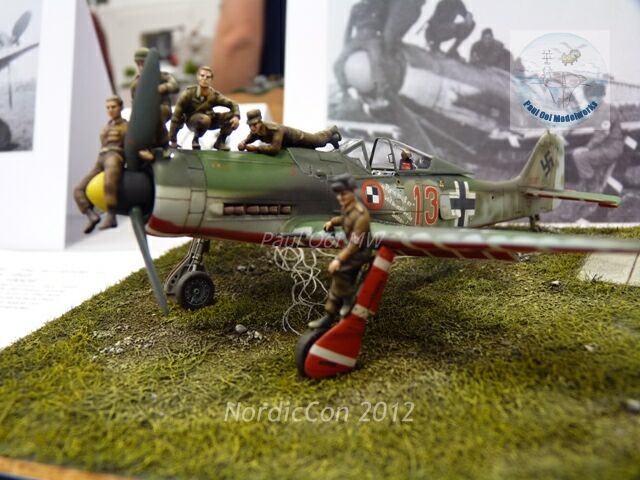 A surrender scene here with the German pilot being searched by an MP after he crash lands his plane. One could sense the uncertainty of the situation as the pilot steps out gingerly from the shock of the crash into captivity.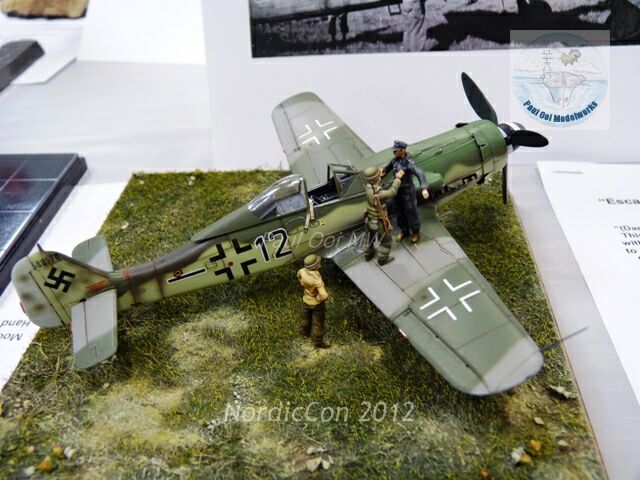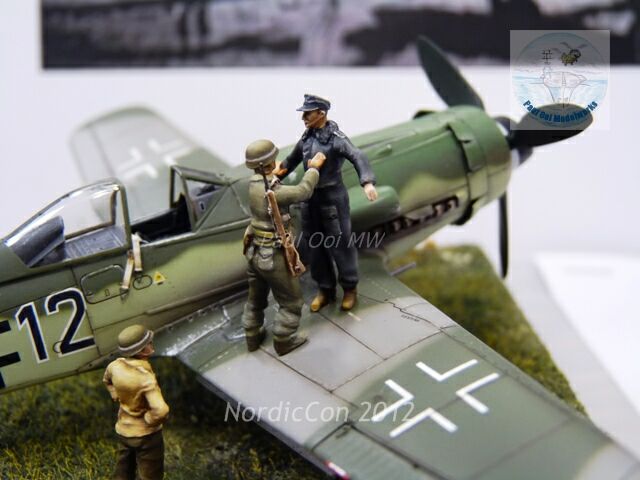 This masterpiece "Stranded on Kefalonia 1944" won NordicCon 2010's gold medal for diorama section. Amazing work with the semi-submerged fuselage and one could almost hear the sound of waves beating on the rocks.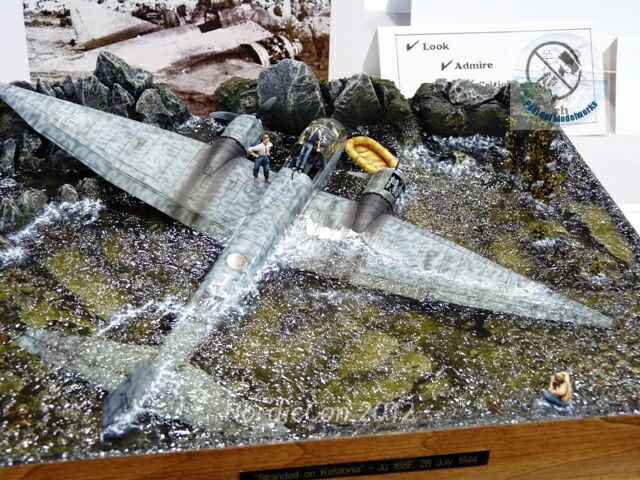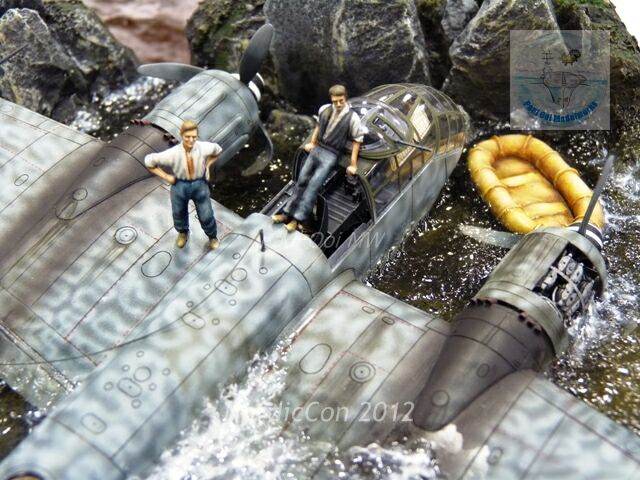 Another photo ops in session for GIs on a former German airfield.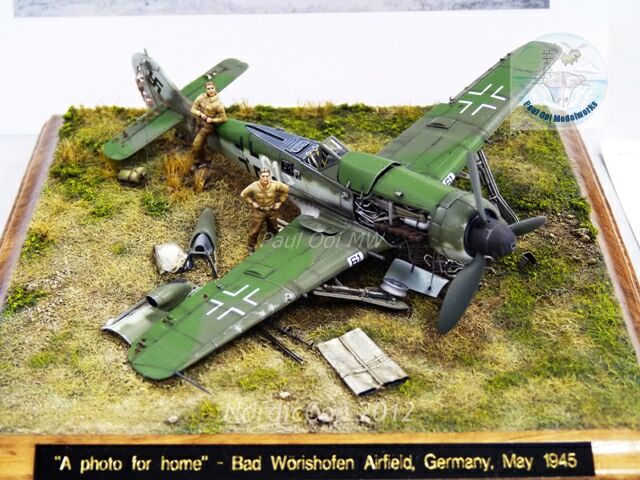 Steve Hustad's portrayal of the dramatic surrender of German ace Hans-Ulrich Rudel in his Stuka.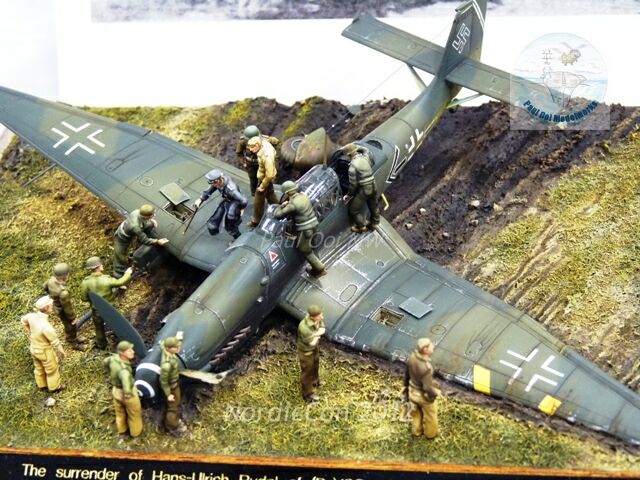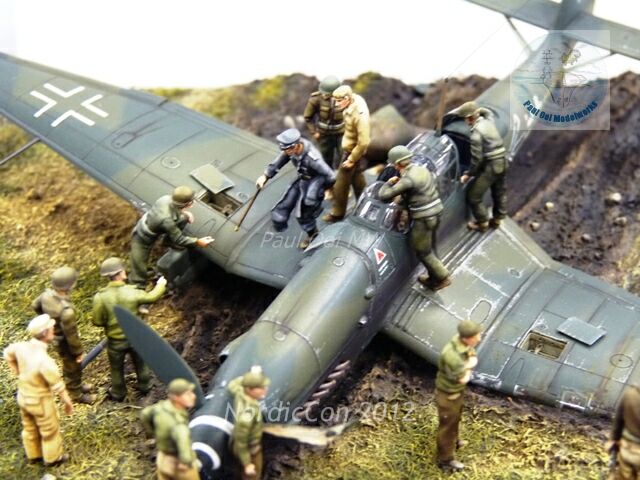 Plenty of curious GIs.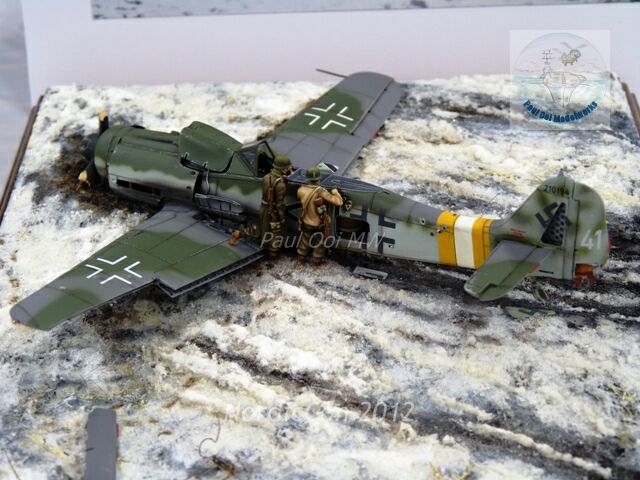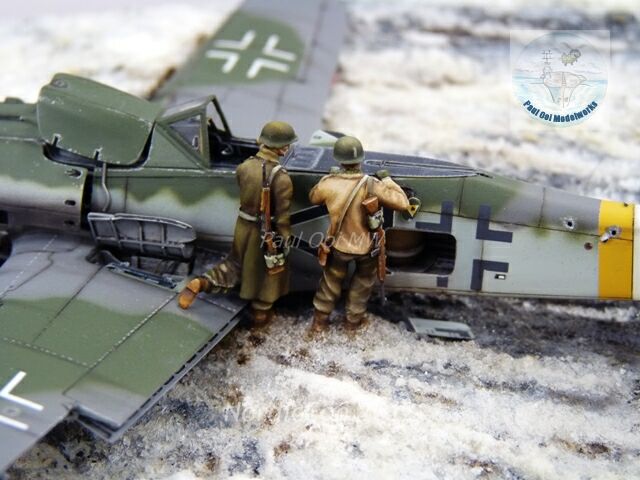 And the best (in my humble opinion, for last. This Ju-88 Nightfighter is shown all burnt up on the tarmac. The amount of damage work from the burnt airframe to the ripped up wiring and debris is simply amazing!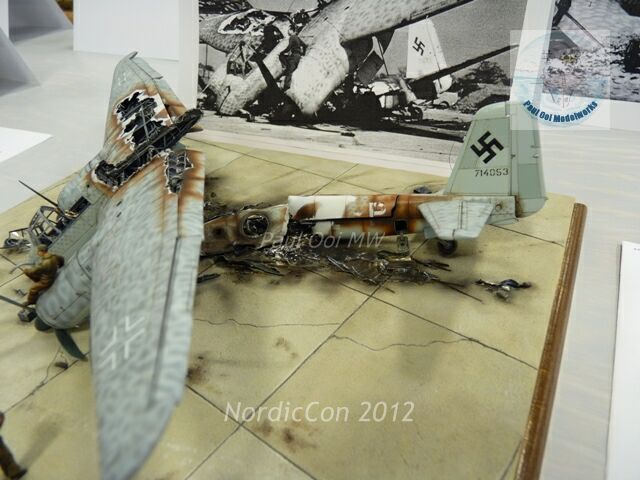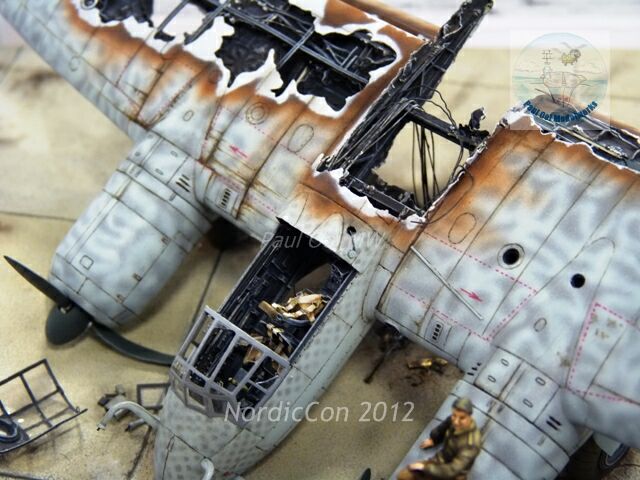 Watch out for the next part of NordicCon '12, the aircraft models in the competition.