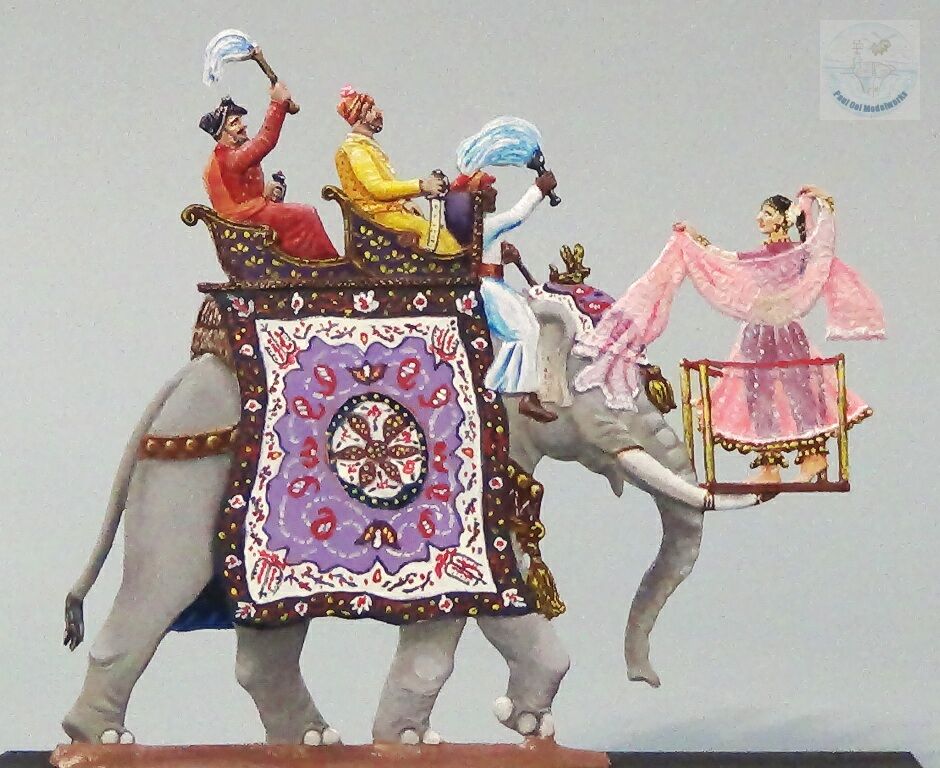 It has been a while since I last posted a flat tin figure, and this time it is a leisurely elephant ride for the Mughal emperor in the 17th century. Instead of a tiger hunt, there is a platform mounted on the huge tusks of the elephant with a dancing girl. She must be very steady in her dancing and singing in order to be doing this on a moving platform. I mail-ordered this flat tin figure or Zinnfiguren from the maker, Karl-Werner Rieger in Kiel. Many of these designs are very old, handed down the family, and so long as the mold set still works, the tin figures are available.
Gallery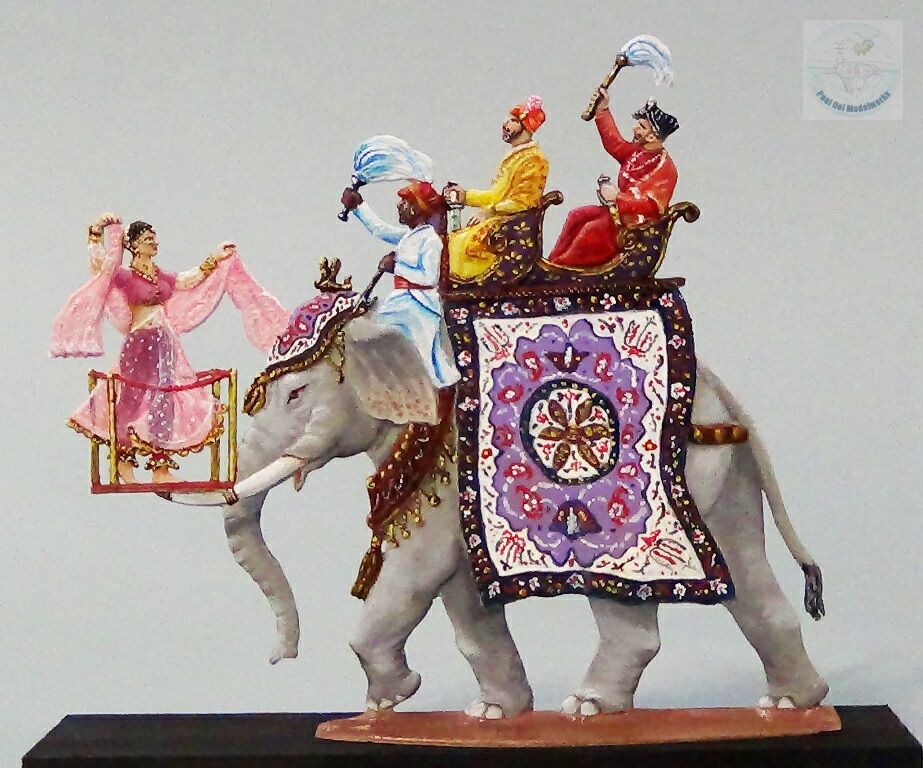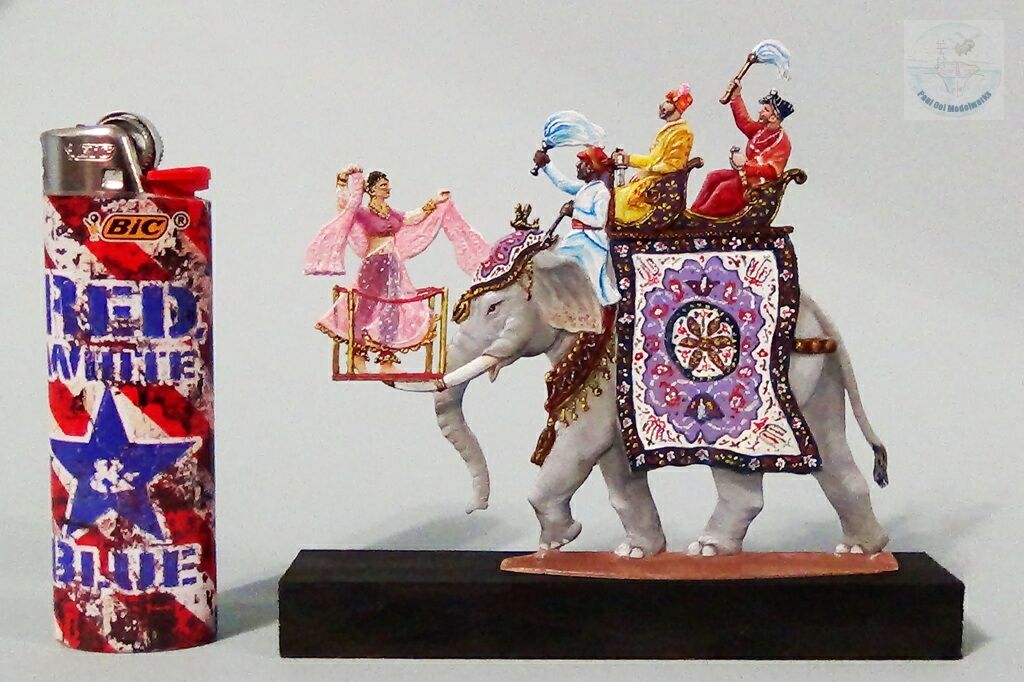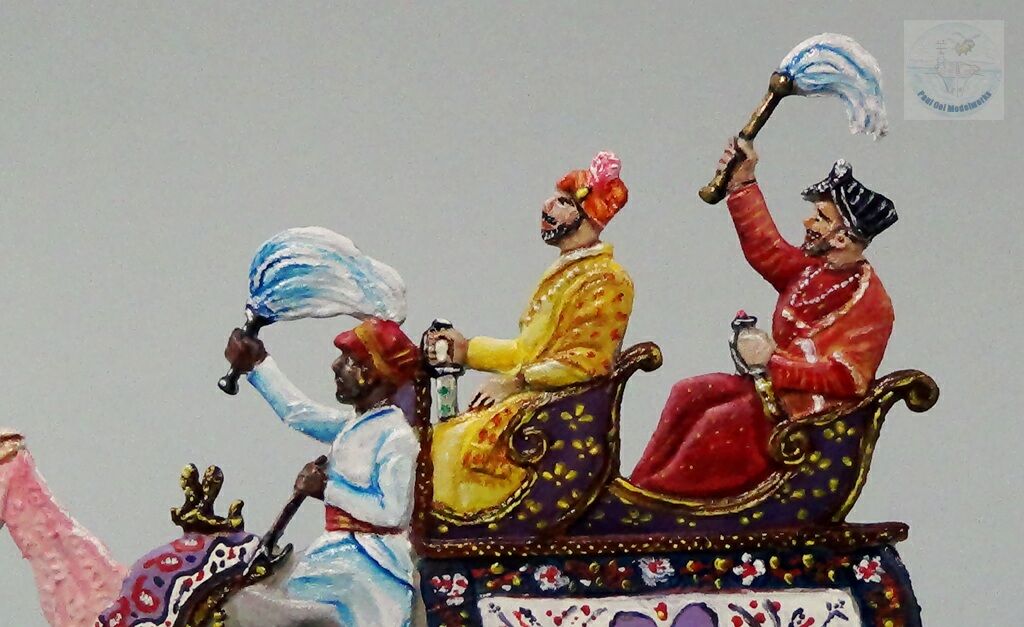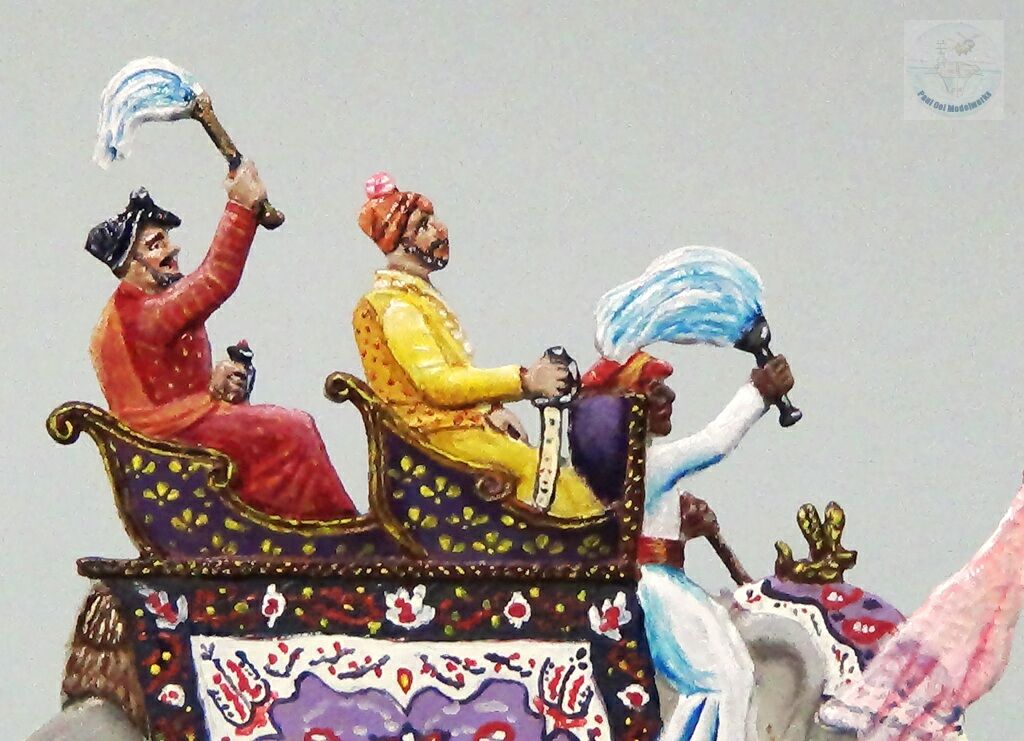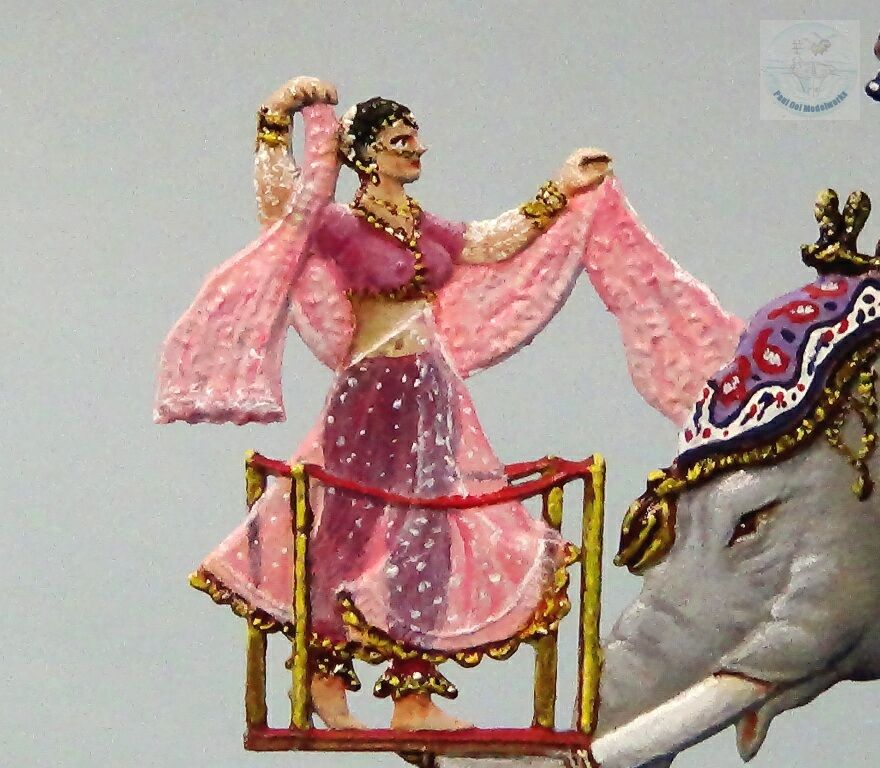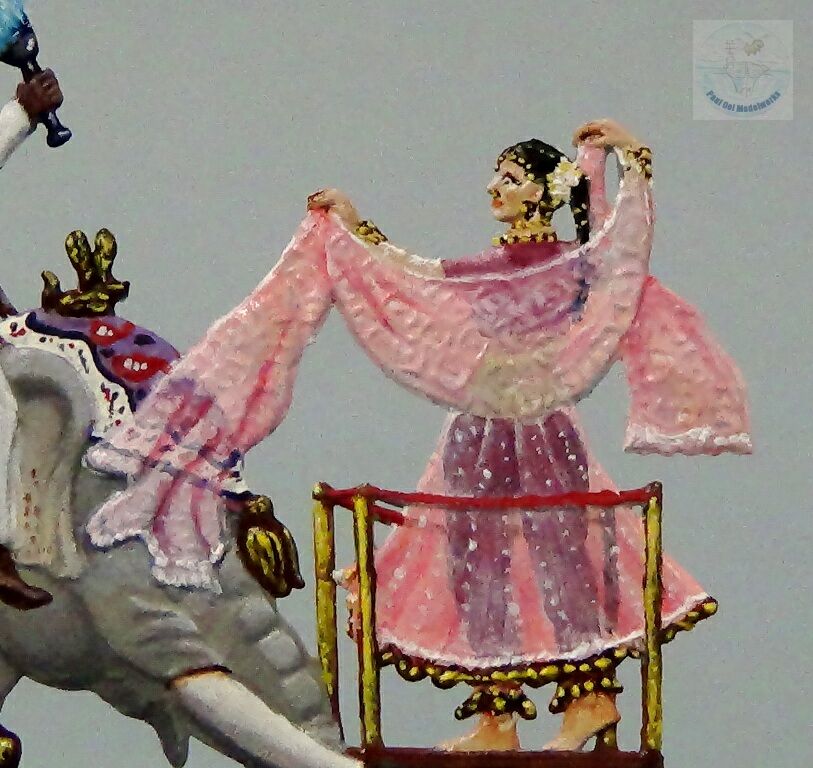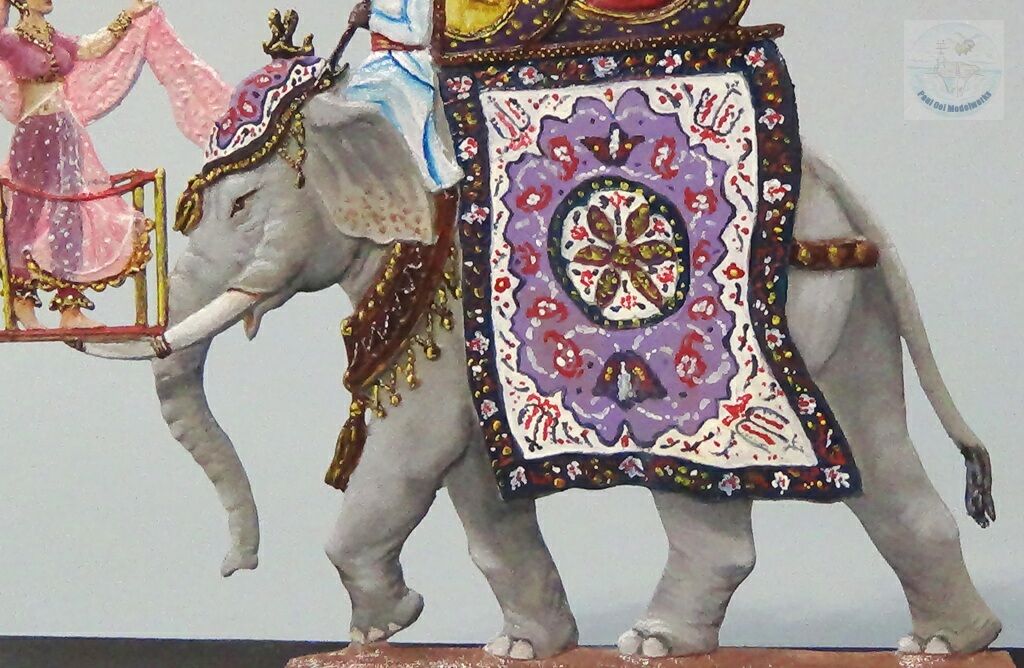 Painting Notes
Flat tin figures were very popular in continental Europe for centuries, and many of the makers or "editors" as they are called are still cottage industries centered around Germany, Austria, and Switzerland. While many sets can be purchased already painted, one can always take the challenge of buying the blanks (or unpainted versions) for much cheaper. Since they are so compact (being flat helps!), they can be easily mailed by small postal packet from Europe. I had collected a few elephant figures; the first one was the Indian War Elephant, and this is my second one with a different feel to it. You can see that the figure is small and requires a lot of fine brush work. For me, this is relaxation without the usual airbrushing or construction headaches.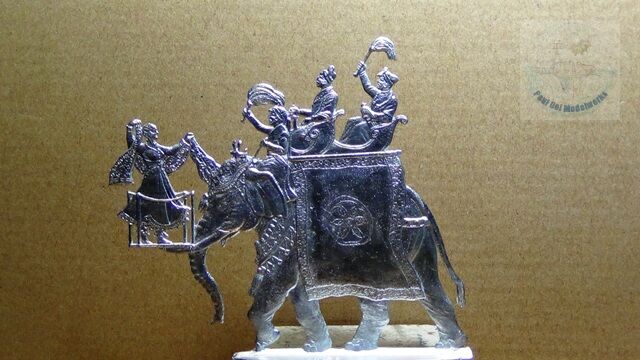 Starting with the basic tin or pewter figurine, I clean it with rubbing alcohol to get rid of any oils (including our skin oil from fingers). Then de-flashing and filing away the cast lines (being careful not to remove detail), followed by a light machine-brushing using nylon bristles (metal ones will remove detail).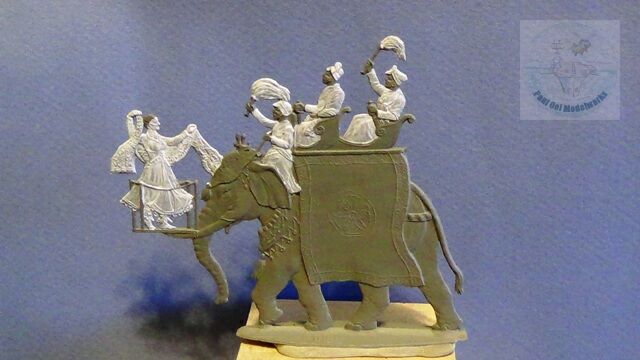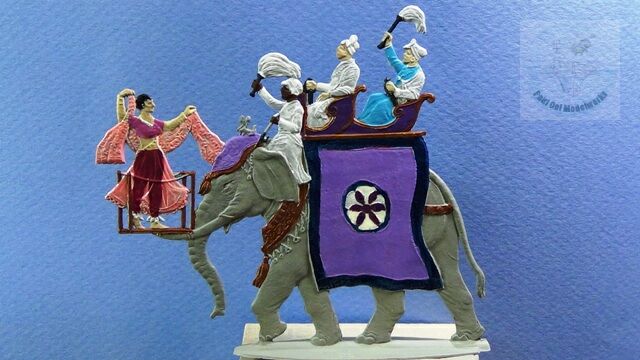 Next step is to prime the figure for better pain adhesion and to provide a solid background for the oil paints later. I use a grey primer from Armory, allowing it to dry well overnight. The next day, I apply Tamiya acrylic flat white XF2 for human figures. This is followed by the intended primary colors to be used for each figure. I do not use enamels as I do not want the oil color solvents to attack this base layer.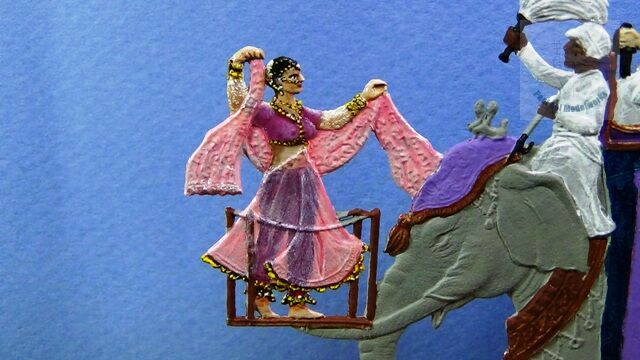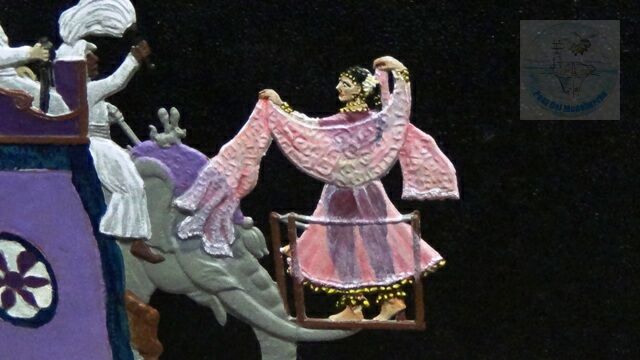 The first human figure that I paint is the dancing girl, as hers is the most complex among the figures. I start with the flesh tones, using Tamiya XF 57 Buff as the basic flesh tone. This is then shaded with oil paints Burnt Umber for darker tones, and Burnt Sienna for cheeks, facial tones, and blended with a 2:2:1 mix of Titanium White:B. Umber:B. Sienna. The clothes (the dark pink Choli top) were under-toned with acrylic 1:1 mix of Citadel's Xereus Purple: White, and then oil shades from a basic 1:1 mix of Alizarin Crimson: French Ultramarine, with varying amounts of white for highlighting. The almost transparent Lehenga skirt so popular in the Mughal court was a light pink tint, using the a very light mix of turpentine + Titanium White: Alizarin Crimson in 5:1 ratio to slowly coat over to build a translucent layer over several applications without erasing the silk trousers worn beneath. The same technique was used for the pink veil that she holds in her hands. Gold ornaments are highlighted with Cadmium Yellow and White.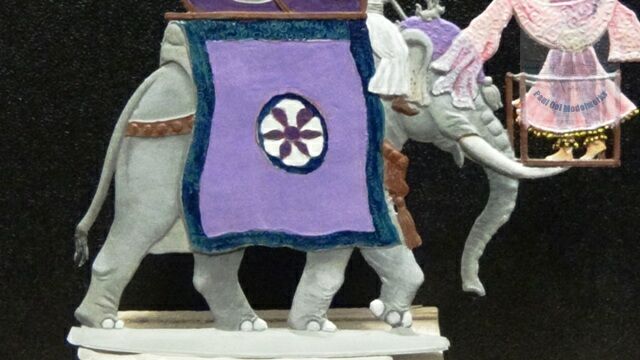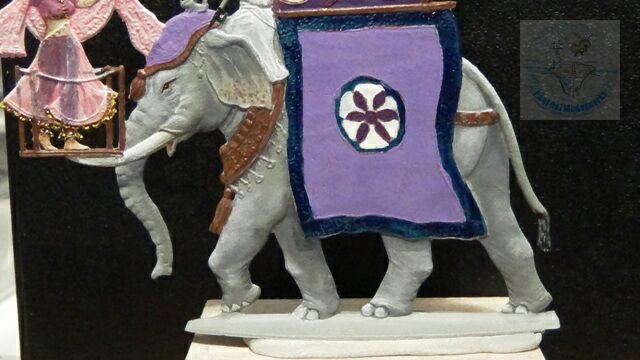 The elephant provides a stark contrast to the heavily ornamented human figures. I decide to render the elephant in natural grey tones, ranging from near black to almost white mixing grey tones simply by varying the ratio of white to black oils. The most interesting details are found near the eyes and the ears of the elephant with a slight tint of tan and pink around the ear flaps with pigment spots.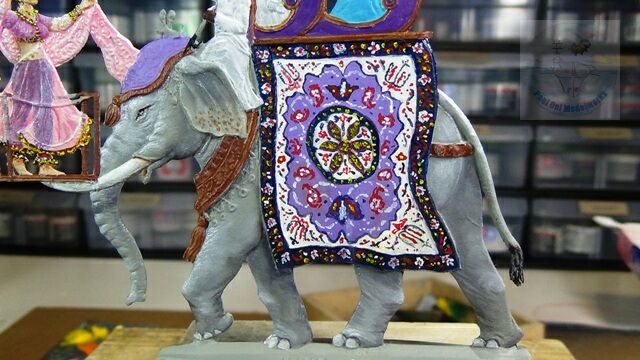 The single largest motif in the project is the cloth covering running down from the Howdah (elephant platform) on both sides. I based my pattern on classic Persian urban rug designs with a central medallion, and then a profusion of paisley floral and vine designs based on historical models. The main colors used were Napoleonic Violet, Ivory, Indigo, and Madder Red, with highlights of Cadmium Yellow.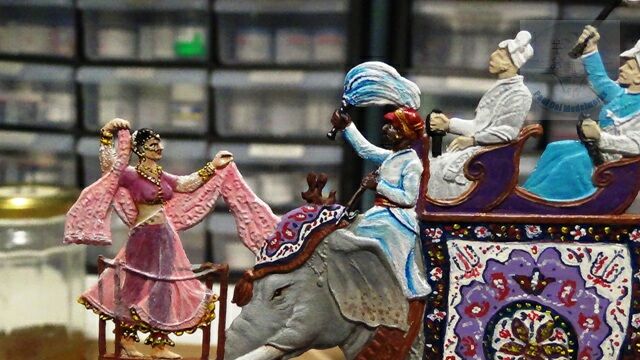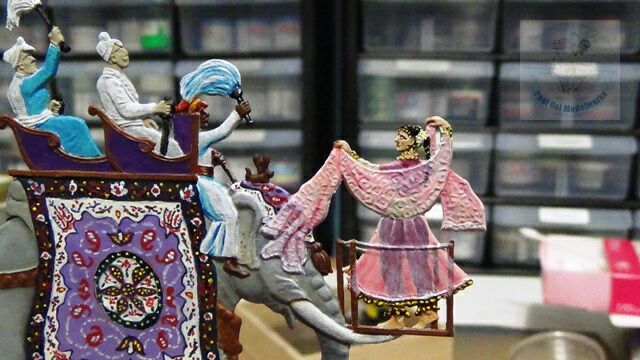 I decided to keep the elephant driver or mahout as simple as possible, with only his turban in a brighter color to show his seniority as a servant. Historically, mahouts wore plain white linen for ease of movement as they scramble up and down the elephant's side. I shaded his white linen with tones of Prussian Blue. His darker skin was first undertoned in Tamiya Flat Brown, and then shaded with Burn Umber, and highlighted with a mix of White and Burnt Unber.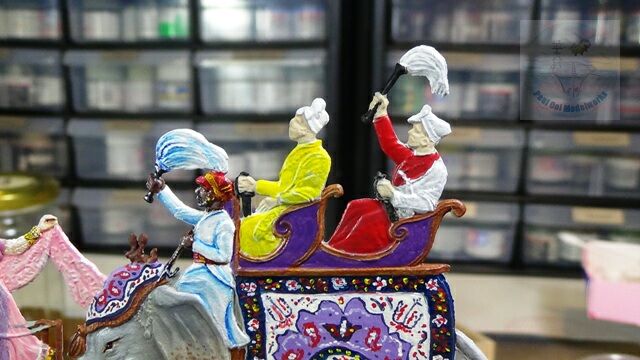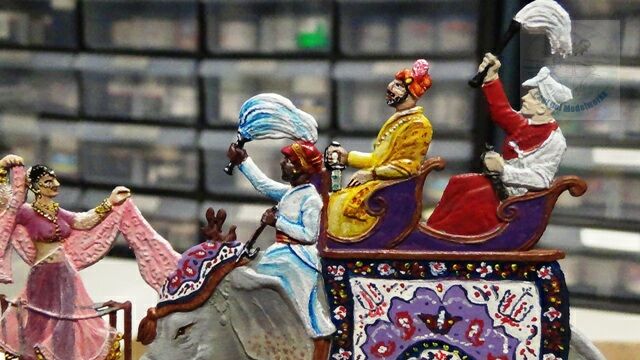 The emperor himself sat in front of the Howdah in his bright yellow Raz robe, and wrapped with a fine Muslin scarf arund his waist and left arm. He wears a brilliant orange turban decorated with a pink feather. He carries a jeweled sword with rubies and emeralds on the scabbard.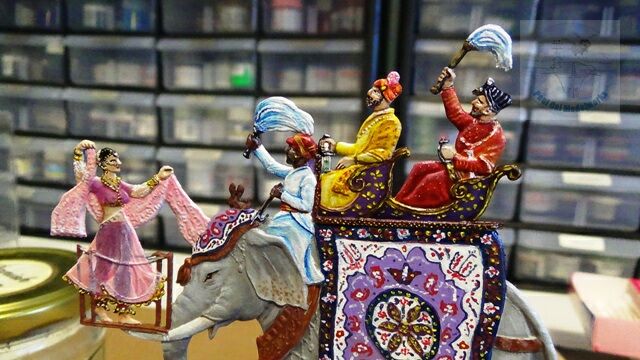 The Wazir or Vizier sits behind the emperor waving a fly whisk. He is dressed in a crimson Raz rob, and a black and sliver turban. If the entertainment fails to impress the emperor, he gets thrown under the elephant (!)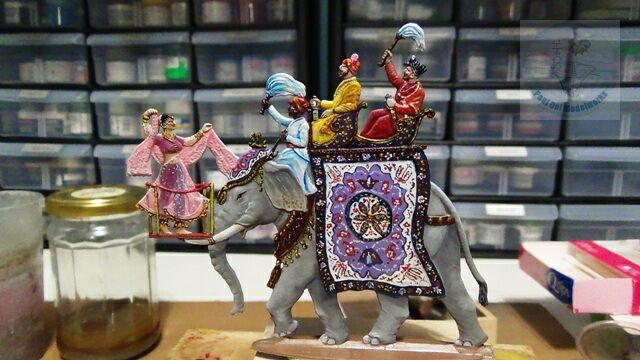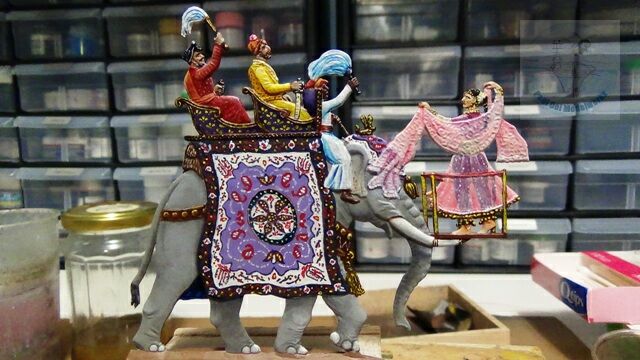 Final details added are the purple and yellow Howdah, and the leather-and-brass collar and straps for the elephant furniture.